Middle East always boasts about the modern trends whether it is politics or fashion. In a similar manner, the sanitaryware used in Middle East is also supposed to be modern, trendy and excellent in functionality. As in other products, there are continuous improvements to facilitate people, so the sanitaryware in bathroom which is used in our day to day life also requires improvements. Sanitary ware is something without which we cannot spend even our one day. Everybody has different requirements as far as sanitaryware is concerned. Some people require simple sanitaryware with good functionality but some people like designer sanitary ware also known as decorative sanitary ware which includes hand crafted wash basins, colourful and designer water closets etc. To make the bathroom look beautiful, the bathroom is supposed to have all elements like wash basin, water closets, urinals, bathroom accessories, tiles etc., which gel with each other very well. In Middle East, people are very much conscious about the interiors of the house and give lot of importance to the bathroom design because bathroom is an essential part of a house. People in Middle East live a luxurious life and so they choose only the best quality sanitary wares of international standards. Whether it is Dubai, Abu Dhabi, Sharjah or any place in Saudi Arabia, the choice of people relating to sanitary ware is just ultimate and so they prefer only best sanitary ware brands available in the market.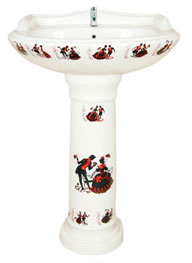 With modern trends in Ceramic sanitary ware in Dubai, Sharjah and entire Middle East, people just prefer to have sanitary ware which occupies minimum space in the bathroom and gives maximum functionality. It is a known fact that maximum number of population in UAE contains expats from other countries like India, Philippines, Pakistan etc. and they cannot afford to stay in spacious villas. Most of the time, they stay in a rental apartment which is quite compact and doesn't have space for bath tubs which occupy more space. So, while designing a bathroom in an apartment in Middle East, the owner always looks for the sanitary ware which is compact and occupies less space but provides maximum functionality and last but not the least is great in design.
Sanitary Ware Supplier in Middle East


Aone House is a renowned exporter of sanitary ware from India, supplying designer sanitary ware in Middle East after understanding the demands of people over there. We know that people over there give maximum importance to quality in each and every product they use and when it comes to sanitary ware, hygiene is their priority. We never compromise in quality and provide ceramic sanitary ware of only international standards by best manufacturers of sanitary ware in India. To complete a bathroom, each and every element like water closet, wash basin etc., is equally important. Thus, we can provide stylish and designer water closets with wash basins ready sets for modern bathrooms designed in Middle East. If you are in search of a reliable exporter of sanitary ware from India, you can visit http://www.aonehouse.com for more details as we believe in providing only best quality at best prices.
For more information on Designer Ceramic Sanitaryware Used in Middle East, visit – http://www.aonehouse.com/market_cover.html