Italian water closets have a reputation of being high class executive water closets for both commercial and domestic use. These closets are well designed to form very elegant and efficient sanitary ware.
Differences between Italian S-Trap and P-Trap Water Closet Suites and Their Applications
Water closets are either S trap or P trap. These two features trap a small amount of water to prevent the backflow of sewage gases into the water cosset and finally back to the room creating a bad odor and allowing bacterial into the room.
Traditionally, most toilets were the S type.  Italian S trap water Closet has an S shaped plumb fitting just below the water closets.  This plumb fitting traps water in the S shape after much of the water has gone down the drain. This water acts as a sealant and prevents flow of sewage gases back to the closet. Due to its S shape, this design creates a siphoning effect which sometimes drains all the water in the S trap. Thus S trap toilets are being replaced by P trap which does not have siphoning effects.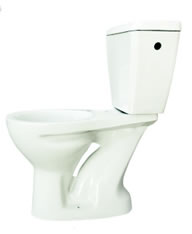 P trap toilets have a U shaped plumb fitting followed by a 90 degree bend. The two fittings create a P shaped structure just below the water closest. The P shaped has been carefully engineered to prevent the siphoning effects and the water trapped is permanently there. Most S traps are currently being replaced with P trap.
Innovative features of Italian P-trap water closet suites
Italian P closets come in different sizes, designs and shape. On characteristic features is that the flashing unit is attached on top of the basin making it easy to use and install. These toilets also come with a hygiene guarantee making them very safe to use.
Italian P trap water closets have many innovative features that enhance their functionality and aesthetic appeal. These ceramic casting for these closets have good dimensional stability creating high aesthetic closets suitable for executive sanitary ware.
Other designs of these cosset uses a small space and are manufactured so as to match with most of the toilet space in buildings.  Ergonomic aspects in these closets have been introduced so as to ensure that they are comfortable and easy to use.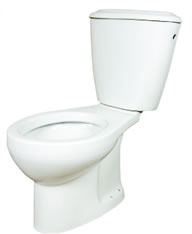 Why buy Italian P-trap water closet suites 
The Italian water closets have many innovative features, simple design, elegance, and are manufactured to suit customer's requirements. This makes them ideal for both domestic houses as well as commercial buildings.
Demand and market trends
The many designs in the water closest market create a very competitive environment for Italian suites and other brands.  Though the demand for water closet is projected to increase, the Italian water closet can capture a larger share of high end sanitary ware market.
Conclusions
Italian water closets have many functional features and high aesthetic appeal.  P trap closets are rapidly replacing S trap as there are more effective in preventing sewer gases from escaping into the closet.  These closets are ideal for both domestic and executive sanitary ware.