A wash basin refers to a permanently installed bathroom sink that is fixed to a water source and a drain pipe system used for washing your face and hands. A wash basin with podium is a type of the wash basins, though with a supporting leg-like stand on its base going all the way down which makes it easier to be set up on the floor in any desirable part of the house. In this day and age, a sink with pedestal is very popular and important, more than the traditional one which is duly attached. There are several reasons which make it very crucial in our day to day life like;
· Many people live in apartment/rental houses and we know that they don't have all the space they need. Pedestal wash basins are great for lesser bathrooms.
· They provide a chic appearance even with the small space allocated, who doesn't want to go home to a stylish place?
· They are swift to install and that is a plus since people are busy and don't have much time to waste doing particular things
· In these times of economy crises, pedestal sinks come to the rescue because they are comparatively easy on the pocket
As different people have different tastes and preferences, pedestal wash basins are available in various types and brand names. From stainless steel to ceramic to copper ones and from different manufacturing companies for instance;
· The Sterling Set wash basin- a very alluring, captivating silver ceramic pedestal sink originating from India, with all the oriental decorations put on, it can be termed as a piece of handcrafted ceramic sanitary ware. It's very breath-taking and you can barely say no to it. visit Aone House for various style and designs of wash basin with pedestal.
· Style Set wash sinks- as the name suggests they are based on style and come in a very wide range from traditional to contemporary to American standard to those made with stone and granite. It all depends on the buyer's taste in home decoration.
· Sophia Set – are wash basins with exceptional class and style still originally from India made of the finest materials and custom made to fit individual needs. With hygiene, functionality and twisted style all in one just to give a customer the advantages of long-term hygienic material.
· Twyford wash sinks are very modern and elegant ceramic wash sinks, though not pedestal but they are exquisite and come in different shapes and designs.
· Radon Set sinks- are state-of –the-art installed wash basins with the naturally mined radon to keep the sanitation at its uttermost.
If you are looking for or rather potentially shopping for a pedestal wash basin, there are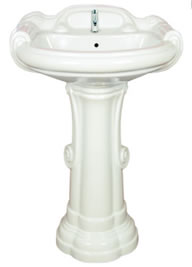 several things you need to look out for whether online or out in the stores. First and foremost it's the type of the pedestal sink which you think will fit perfectly in all aspects, secondly and most importantly the price has to be within your range so that you don't overspend on something which is of poor quality. You also have to do background research and emphasize on which material the pedestal wash basin is made from.
At the end of the day, a buyer has so much to choose from when it comes to wash basins with pedestals whether they want to be extravagant and spend their money on the highest-priced ones or just keep it simple and get second-hand ones. Whatever choice the buyer will make, fact still remains that pedestal sinks are here to stay.