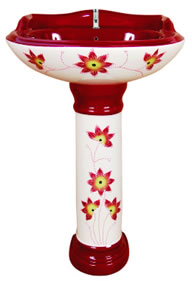 Whatever be your requirement of selecting sanitaryware whether it is a bathroom design for your new home or renovation of your existing bathroom to suit the modern interiors of your renovated home, selecting appropriate sanitary ware matching the interior colour of your bathroom would be a good choice.
Plain white bathrooms usually look unfinished and therefore it would be a wise idea to design your bathroom interiors with colours as per the interior of your home. Go for the lighter and mild colours if simple bathroom design is your requirement or else opt for brighter shades if you want a bright posh bathroom interior.
Bathroom is an important place of your home where you spend the very first moments of start of your day. It is the only space in your home where you can spend the best private time for yourself and unwind after the day's tiring work. It is said that colors have an amazing capability to make you feel good and revitalize your mood. Therefore with the choicest bathroom colour and interiors one can add a new dimension and value to their bathroom.
Sanitarywares are must for every bathroom and play an important role in defining the bathroom look. Usually colors like blue, Tuscany, olive green, brown, mustard gold are preferred for sanitarywares. However while selecting sanitaryware for a modern bathroom, it is very important to select sanitaryware of the colour that goes well with the bathroom interiors. Today everyone is going for a theme based bathroom design. For example some may like beach themes with good amount of blue color while few may like Tuscan themed bathroom with rich green walls with dark wood accents. Therefore selecting the sanitary ware color for your bathroom will greatly depend upon the theme selected.
If your bathroom interiors are painted with warm colours like burgundy, gold, and royal purple, go for matching colors that can complement these colours. If cool blue is what your bathroom interiors display, it would be better to opt for white, cream-white to blue coloured sanitaryware to give a pleasant and beautiful look to the bathroom interiors.
Slowly the trend is shifting from boring white bathroom sanitary ware to colourful designer sanitary ware. The ceramic bathroom sanitary ware in colours is what most of the individuals are preferring to have in their bathrooms. The designer sanitary ware like handcrafted or rustic style wash basins and water closets in colours matching the walls of the bathroom are a great choice for designing a modern bathroom within budget.
Those looking to buy sanitarywares for the choicest colour theme of the bathroom can find Aone House sanitarywares which are the best and can satisfy one's needs of bathroom design within budget. Visit http://www.aonehouse.com/about.html to learn about Aone House, one of the best sanitary ware brands in India.