Wash basin is a key object acquiring aesthetically a dominant role which is been repeatedly used. This is one of the pieces which specify a little art piece of your bathroom. The days are gone where the wash basins played a secondary role in interior designing. Nowadays, the wash basins are been designed having its aesthetic value, hygienic value as well as will have an effect on the space utilization in the bathroom. Wash basins always helps you out to give a desired look.
Aone House offers you with some of the models of the trending wash basins to select for your house. It includes, Wash Basin with Pedestal, Handcraft Wash Basin, Sticker Wash Basin, Rustic Wash Basin.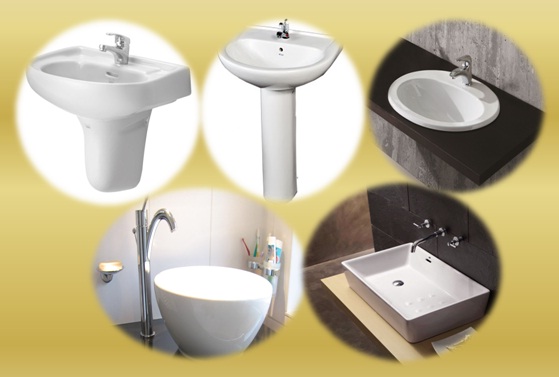 Wash Basin with Pedestal: There are variety of wash basins with Pedestal is been available. These handcrafted series are available in different shapes and size. If you are having with the large bathroom space you can opt for this wash basin with pedestal. Nowadays, there is also variety of designs been available for the wash basin with pedestal. Aone House offers with the wide range pan sets of this type which includes Repose Set, Parth Set, Capry Set, Crowny Set, sterling set, style set, Sophia set and rado set wash basins.
Handcrafted Wash Basin: For a more traditional and unique look many of them go for Handcrafted Wash Basin. These wash basins are made up of non- porous material which is also resistant to heat and scratching. They are been specifically with the color choice and designed with the unique art work giving a skillful weaving of design.  There are different numbers of sizes and shapes of these wash basins available for designing your bathroom.
Sticker Wash Basin: Wash basin is on trend for designing with a simple and attractive look for your bathroom. You can have this type of wash basin with customized bowls which has different sets which includes sterling set, style set, Sophia set and rado set. This is the best quality water bowls which makes your bathroom look unique adding value to your interior.
Rustic wash basins: Rustic wash basins are quite attractive because of its appearance and the attractive design. They are mostly having with the bright colors and can be used in the bathroom which has large spaces. This adds a natural sense to your house with its deep red and brown colors. With the different coloring shades you can choose with the best color with matches with your house theme.
Wash basin should be simple and elegant which may also add a unique value to your interior and may also add a value to your money invested. Considering to all the factors with the interior designing of the bathroom, Aone House provides the wide variety of sanitary products as well as wash basin products. Design with your bathroom interior today and give a different look to your bathroom. In the line of trend with these ceramic sanitaryware and wash basin products Aone House provides the best products focusing on innovation and creativity to maintain the market share.