A sink is a deep dish that is used for washing hands and other proposes. They have taps for hot and cold water and sometime include a spray for faster rinsing. Along with a soap dispenser, a sink also includes a drain which may have an overflow avoidance device or a strainer in it. Earlier it used to be a wash stand on which a deep bowl and a pitcher was placed according to tradition. These washstands have evolved since then and have come up a long way through their course to emerge as one of the primary luxuries of bathrooms.
Factors to be considered for a legitimate installation
Top options: The first and foremost point of installation is how and where should the Ceramic sinks be installed for good result. So some of the top options considered are:
Pedestal: A basin fixed on top of a tall and slender base is what a pedestal sink consists of. It gives a vintage look but also have other contemporary styles too. When it comes to small baths where storage or any counter space is not important, then pedestal sink would work well and come out as a good option.
Console: The console sink is a well known variation of the wall mount sink. It holds resemblance to the traditional console table found at the entry. The console sink, usually has two legs or sometimes four. These ceramic sinks provide an open shelf and generous counter.
Counter top: One of the most common installations is the counter top sinks, where the sink is placed on a sitting or a counter top, as part of your vanity unit. They offer a good storage and a sizable surface. different type of counter top sinks are: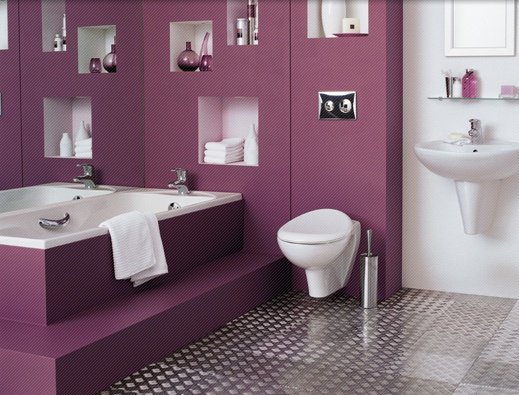 Self rimming sinks: they have rolled edges and are easiest to install. They offer a drop down allowance to the sinks at the counter top opening.
Integral sinks: designed to fit the standard size and width, integral sinks are easy to clean and maintain.
Vessel sink: They sit atop the counter and stand out incredibly with their striking style.
Under mount sink: With no rim contended, they expose the counter top surface and are mounted below the counter.
Wall mount sinks: Even though found commonly in the institutional setting they even work in home bathrooms. Exposing the drain pipes they are hanged at a comfortable height. They are affordable, clean and offer an attractive finish with edgy chrome.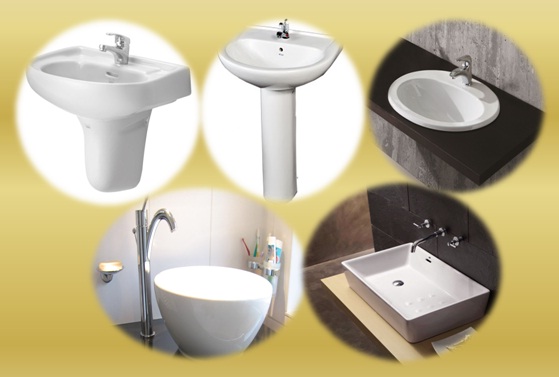 Compatibility of the Faucets: Your hydrant choice should match with the size and shape of the sink. Most of the sinks come with predrilled holes either 1 or 3. There can be a single flow faucet or separate ones for hot and cold water inlet. A single handed hydrant will have a single hole but some single handed nozzles comes with escutcheon plates, allowing them to work even with the 3 hole ones. Center set nozzle pair have a 4-in spaced holes, at the same time a widespread tap will have 8-in to 16-in apart holes. Some wash basins don't have any concavity at all.
Size and shape of the Basin: There is no standard size for the bathroom sinks. It depends on personal choice. They can of a normal size for just washing hands or big enough to wash hair or any clothes. Round sinks can be of 16-20in o diameter and rectangular ones can be 19-24in wide
Material of the ceramic sink: One of the most important factors that make one sink distinctive from the other is the material of that sink. It can be traditional ceramics, fireclay, porcelain, glass, stone etc. These materials are given a striking and stylish look by solid surfacing and metals like cast iron, nickel steel and brass. Some of the materials are:
Glass: They sound delicate but are very strong. Made of tempered glass, they can withstand normal baths. But make sure u don't drop any heavy or sharp objects which can cause scratches. Glass is hard to maintain clean.
Marble, onyx or granite: They offer a natural color and luxurious look to the basin. However they are very prone to stains.
Vitreous china: These materials have a smooth and glossy texture and also provide a durable and attractive look to the bathroom along with stain-resistance.
Metallic: These have an enameled and glossy finish, giving a brushed and earthy texture to the baths.