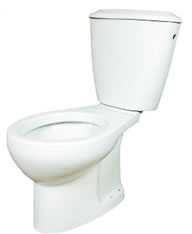 According to the definition a water closet is a room with a toilet. But now its abbreviation form 'WC' (water closet) is used very frequently. In the industries manufacturing sanitary ware the term 'WC' is used for toilets.
Tomas Crapper first invented a water closet. Flushing mechanism is used to flush the waste via a drain pipe. A flushing toilet was invented way back in 1798. There are two types of toilets, the western–style toilet for sitting and the Asian–style toilet to squat.
European or Western Water Closet is well-designed sit down toilet. This kind of space-efficient toilet consists of a seat & its cover as well as a flush tank attached to it. The seat cover needs to be shut while flushing after usage.
The variety of designs in traditional style of pan models is limited. They have standard designs as compared to the designs of the modern water closets. The pan shape is quite customary and these are often used in places which are traditional and where modern chic designs will look out of place.
The western style Italian water closets are very popular today as these come in a range of designs, colours, styles and decorations. The price range varies according to the model.
The toilet seats have unique designs and shapes with beautiful colours. The expensive range of Italian water closets have seats made of polypropylene which does not stain, or break and the colour does not fade. These are popular since it is very easy to clean them. The soft-close seats do not make a slamming noise while closing.
With a wide range of designs available in western style water closets consumers are really pampered. The  bathroom may be big or small, one can find toilet seats and pots that fit every kind of bathroom space. The eco friendly water closets use less water which in turn saves energy, money and the natural resource, water.
Different types of toilets available are:
Wall Faced Toilets – These are smooth and slick in design with the flush mounted against the wall. As they are easy to clean and maintain, these are very popular.
Connector Toilets – In these the pan is separate from the cistern and a pipe joins them together.
Close Coupled Toilets – These have the look of all-in-one because the cistern is joined to the pan. There is a gap between the pan and the wall, so dust gathers in the space and cleaning becomes a tough job. For more details on water closets, visit – https://www.aonehouse.com/water_closets.html
In most of these western style water closets the flushing device is such that very little noise is produced during flushing. Some pans are coated with Teflon so the pots do not stain and cleaning them is very easy.
The ceramic cisterns give a fancy look to the toilet. They are more durable than the plastic cisterns.
In a bathroom toilets are the most frequently used item so care must be taken while selecting a water closet. Italian style water closets with their neat styles are hygienic and easy to retain.
The s-trap and p-trap water closets are very popular.
Conclusion
The lavish designs of the Italian style water closets are very popular as they give a luxurious look to the bathroom. Initially these are expensive but over the time you spend less money over their maintenance as compared with traditional pan toilets.