The process of interior design follows a systematic and coordinated process that involves research, analysis, and the integration of knowledge into the creative process to produce an interior theme that achieves the target goals and objectives. The choice and installation of different types of sanitary ware in the house can completely alter the theme and introduce a fresh appearance of the house.
Concept Design and Planning Considerations
This process involves a detailed, measured and photographic survey of the existing and proposed drawing to fit the ceramics at designated places. With the advanced technology today, 3D modeling has enabled interior design artists to develop models and illustrate to potential clients before actual installation is done.
Matching the Home Finish with the Design of Sanitary Wares
 The sanitary wares are important part of our daily lives and are part and parcel of the home. When they are selected well they can effectively enhance the look and value of the home as well as adding to the comfort. These wares come in different designs, colors and styles and they add to the luxury of the home.
Sourcing and Transport Considerations of Ceramic Wares
Sanitary and ceramic wares are delicate installations that require proper handling during installation. It is important to ensure factory certification before purchase. The appearance of the product should be smooth and beautiful, absent of cracks, smooth edges, and with a consistent tone.
Due to the brittle and delicate nature of these wares, extreme caution must be exercised in handling. Proper wrapping of the ceramic wash basins, water closets and ceramic sinks helps in retaining the smooth edges and the beauty of the product.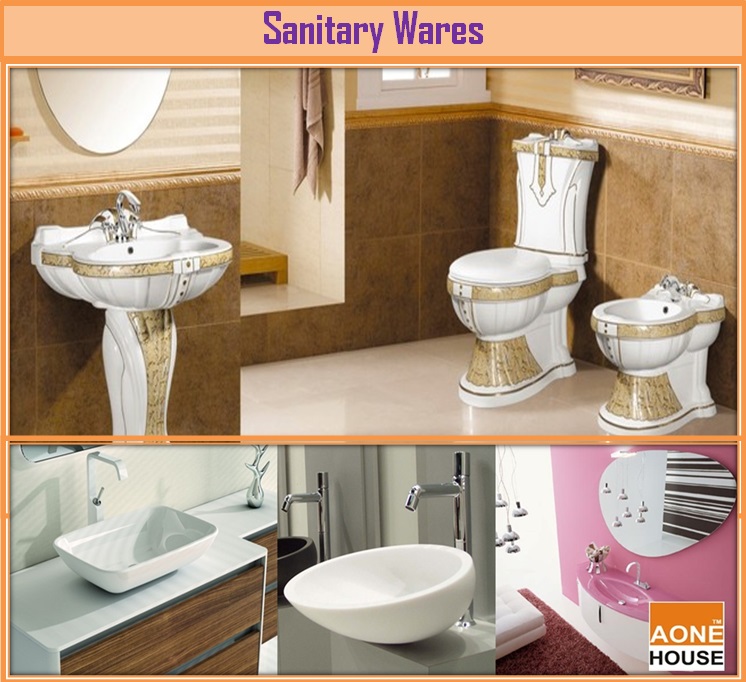 Ceramic Installation Procedures
Installation is done only after completion of the plumbing, drainage, floor, tiles and room doors. The water closet is fixed with proper alignment with the inlet and the outlet piping system. This is important as it prevents future problems of leakages and avoidable breakages. Where necessary, holes are fixed onto the floor or wall for proper fixing of the screws that will eventually mount the ceramic wash basin.
It is important that the W.C connector rubber seal is correctly located on the rim of the connector. In attachments of wash basins it is crucial to incorporate the water proof seals, to ensure no leakages will ever happen.
The Bath Tub and Shower Tray
The tub /tray drain shall be well connected to the waste pipe using the appropriate waterproof adapter. The joints around the tub must also be sealed with a waterproof sealant. For the shower accessories, the cold and hot water points must be appropriately marked, fixed and then tiling done.
Kitchen Sinks and Washes Basins
They must be installed to the exact position a specified in the drawings to avoid any misalignments from occurring. The waste pipes shall also be well fixed to avoid potential leakage problems. The gap between the sink and marble must be well sealed to avoid problems of dirty water clogging the lines in due course.