Research currently predicts a global increase in the demand for sanitary ware products by over 7% by the year 2020. The growth in sanitary wares market is largely boosted by rapid expansion in the housing industry. Rapid increase in construction projects across the world has consequently led to a rise in the requirements for ceramic sanitary wares. In the United States, rapid increase in private housing units is further driving up the sales. Renovations of buildings and housing units, and interior design considerations have played a key role in enhancing the demand of ceramic sanitary wares.
Sanitary Ware Market in India
According to research, the sanitary conditions have improved in India. Better economic environment has led to increased per capita disposable income and improved living standards. The government's effort in educating people about safe sanitation has also enhanced the demand for sanitary ware products. Currently, the demand for these products is highest in the residential sector but public utilities like malls, hotels and hospitals have also contributed to demand.
According to a forecast up to 2018, the water closets are the major revenue contributors, with wash basins and cisterns following. The significant rise in middle class and urbanization has created demand for other products such as pedestals and bidets.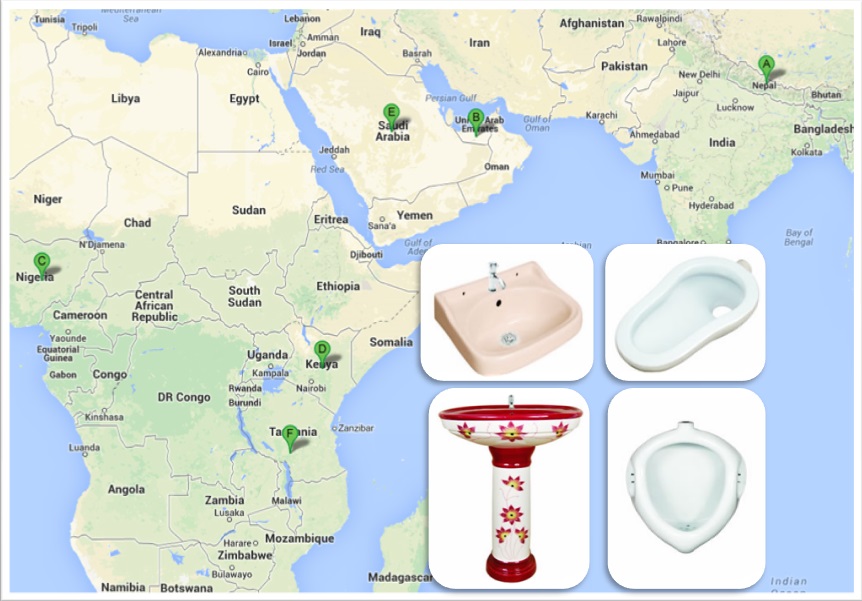 Sanitary Ware Market in Bangladesh
Similar to many other countries, the ceramic industry in Bangladesh has been heavily promoted by the construction industry. Bangladesh ceramic market is approximately 17% of the international ceramic market. The Asian region including china and India dominate the global market for ceramics. Heavy commercialization of emerging sanitary industries has made the sector very attractive. With the rapid growth in this economy, local production is likely to be supported by imports from neighboring countries such as India and China.
Demand in Thailand, Vietnam and Cambodia
Research has shown that as late as the year 2015, this market has imported over 10 billion worth of sanitary wares. Domestic manufacturing is never able to fulfill the countries demand thus the huge imports from countries such as India.
In neighboring countries such as Vietnam and Cambodia, domestic production is still very low therefore providing great marketing opportunities from India. Trade agreements have also made business among Asian nations to be friendly. Tariff concessions between these countries have allowed very low taxation rates thus a great booster to trade. There has also been rapid increase in demand in the Turkish market.
Demand in the Middle East
This region has very high demand for ceramic wares. In Saudi Arabia, demand is supported by domestic production as well as imports from countries such as India, china and Spain. Domestic production supplies over 45 % of the demand while imports cater for the remaining 55%. From the year 2014, there has been a rapid increase in demand for these products especially from the hotel sector. The gradual recovery in the construction sector is also boosting demand especially with governments of Bahrain and Saudi Arabia investing in construction of affordable housing.
Conclusion
The demand for ceramic sanitary wares continues to grow, largely due to positive economic outlook in various economies. Asian countries have benefitted immensely from ceramic trade between neighbors due to trade and tariff concessions. Indian ceramic sanitary ware manufacturers stand to gain from domestic as well as regional trade.