Sanitary ware is something you should not overlook. Though it seems insignificant, it actually has to be used for over ten years and has to bear a lot of strain. It also plays an important role in forming a nice impression. A clean toilet and bathroom is what everyone wants after a tired day.
Wash closets, wash basins, bathroom fixtures and urinals are all a part of the washroom.
Centuries ago, a wash basin was a simple bowl of metal, placed on a table. A water-filled jug would be kept besides it. People had to manually pour water on their hands. After its use, it had to be emptied manually and the jug had to be refilled. Similar was the case with toilets, which was an open space with a water-jug in one hand.
Since those times, both of these has evolved and encompassed several new features. These features are all attractive and confusing. With a huge database of designs to chose from, we might make mistakes while selecting. There are a lot of determining, factors other than the style and comfort.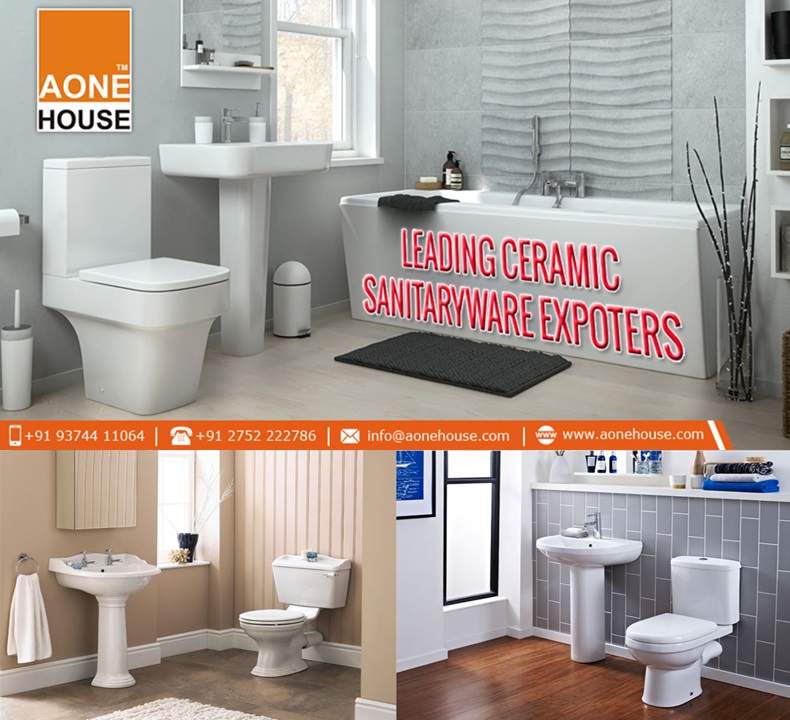 So lets look on to certain points you should keep in mind while buying sanitary ware.
Space: Space is a very important aspect. According to interior designers, a closed room must have at least 1/3rd of its space free of any furniture in order to be aesthetically acceptable. So do not completely fill your bathroom with basins and toilets. Try occupying the least space possible. Sanitary ware is available in variable sizes. Select as size that suits both your needs and the space constrains.
Colour: Themed bathrooms are a top decor now. Different coloured toilets, basins, etc are available. You may also go for printed ones. In a nutshell, you need to keep the basic colour theme of your bathroom in mind. Aone house provides you a wide range of colors. You can check it out here.
Design: We have shifted from the conventional toilets and basins to stylish designs allotting more comfort and decor. In the aone house database, we encompass different designs that you may select from according to your personal likes, dislikes, comfort, bathroom theme, etc.
Flushing mechanism: Now this should be dependent on the available space, water constrains and budget. Dual flushing mechanism is always better as it tends to reduce the wastage of water but they are a little bit costlier. This is of use, if you are selecting toilet for office where a large number of people are going to use it.
Flushing capacity: All the toilets do not have the same ability to flush out. Some require more water and these do not form a good selection over a longer period of time. If it takes more than one flush to clear, it definitely is not a good pick.
Water tank: Water tank may be concealed inside the wall or may be attached to the wall. Select this on the basis of available space and budget.
Relation to the ground floor: Two types of water closets, S-trap or P-trap water closets are available at aone house. The S-trap water closet can be used for ground level houses as it is easy to connect with the ground. P-trap closets in turn can be easily connected with the walls and thus are used for upper floors in the building.
Ease of cleaning: Select basins and toilets that are easy to clean and easy to take care of. No matter, how gross it is, toilet has to be kept spick and span. It can become really dirty, by office use. Select designs that can be cleaned easily.
Automation: Semi-automatic and automatic bathroom accessories like tap, etc can be both useful as well as costly. Automatic taps tend to save water, but if the use is quite less, it actually may waste a lot of water. Similarly such toilets also tend to save more water. Automatic seat-covers on the toilets, look stylish and up your decor but punch a hole in your pocket! These are truly not a good pick for office use as the mechanism might be ruined and it wont serve its actual purpose.
Brand: Brand is very important when it comes to a product that has to be used for long. You do not want plumbers at your house every two or three months. Looking in to the long run, quality should not be compromised. Here at Aone house, we provide good quality sanitary ware at reasonable price. Be sure to check our products here.
Warranty: Yes, always look for this technicalities while buying a quality products. A brand should take responsibility and should be enthusiastic to solve any issues that may arise.