Globalization has brought about great changes in the world. There are lots of new and advanced techniques introduced in the market that are opening up new opportunities for both existing players in the market as well as paving ways for new ones.
Recent years have observed great activity in the industry sector of white wares that have in turn, boosted the growth of consumer demands in porcelains. Research in science has led to innovation of new technologies that have eliminated the manufacturing defects and accelerated the growth in manufacturing processes. The changes are so vivid here, that manufacturers and developers are now thinking that in many cases only some changes are adequate to bring in perfection in such products.
The few changes are listed below:
Raw materials that are now commercially available are now very well prepared and the manufacturers have to now mix it. Also, raw material suppliers are now providing with readymade bodies. This is a time saving procedure for the developers, in the entire porcelains process. Here granulate production, which is one of the expensive procedures can be now left to suppliers.
Many new technologies are on their way that is more energy efficient ways of production of granulate. Also, carefully directed grinding is offering accurate size of grains that is proving to be useful in glazes grinding.
The decoration and glazing of hygienic wares like tiles uses systems that are completely automated by robots. These works according to several instructions given through computer coding attached to ceramics.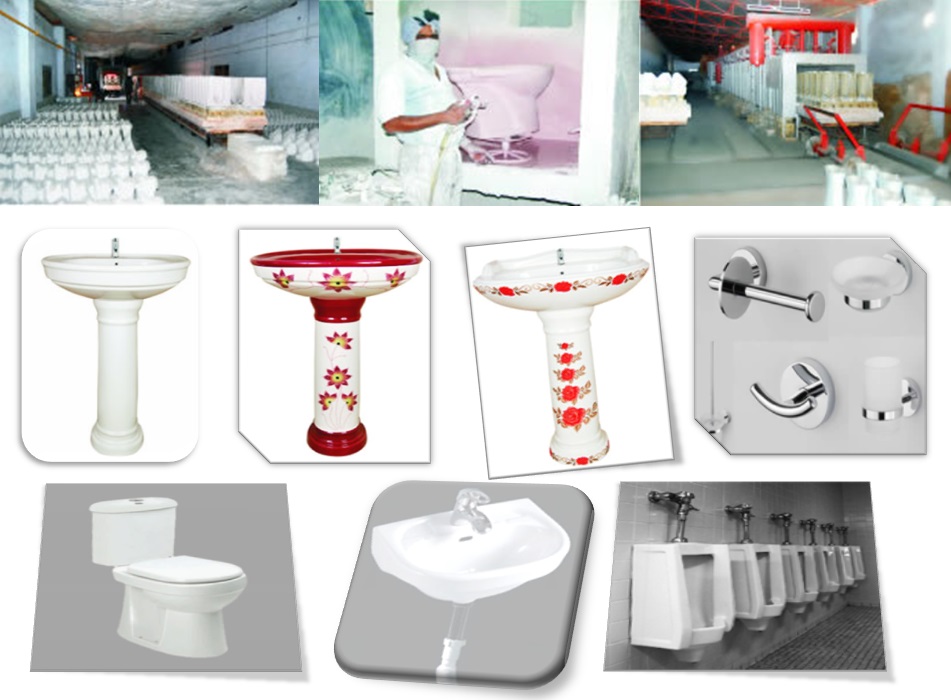 State-Of-The-Art Technology Used For Sanitary Ware
Highly modernized production line is introduced in the arena of sterile ware that is offering various functions ranging from pressure casting to set up of kiln. Thus, operators are left with only supervisory functions. Some of the prime prerequisites in clean ware sector of industry are bar code that is applied on ceramic, pressure casting department for both battery and single casting along with software process and control.
There is also the same tradition that is followed by sanitary ware production, which involves fine grounding of raw materials into a slurry solution.
The process of pressure casting is made easy and only takes a few minutes. The end product has much less seam as most of the water is removed making it harder.  Once, every ware is dried in an automatic system, it is directly passed to robot spray lines where automatic interiors glazing machine is installed.
Science has developed to a large extent here as the machine reliably covers even the hard-to-reach areas. After this process, these white wares are transported to storage units.
Automation in Production Stage
Many companies have also successfully automated downstream fabrication stage where the final sorting and packing of white ware is done by machines. This, on the other hand, has increased productivity of toilet ware dramatically. Thus, it can be said that the global industry of sterile ware is experiencing great change by implementing and coming closer to the next generation processes of creation and distribution. It is providing with automation of entire course with enhanced productivity.