It would not be wrong if I say that people spend more time in the bathrooms/ toilets each week than in exercise.  It was found in a research with a sample size of 2500 people that an individual spends around 1.5 years of their life in the bathroom and a sum of 92 days on the toilet. It is generally said that a women spends more time on the toilet than men but it was found that men actually spend 4 more minutes daily. Bizzare! Hence, when so much time is spent in the bathroom, it should be comfortable, hygienic and beautiful one. In fact, it has become 'the place' where people come up with the most creative and innovative ideas and productive thoughts.
Let's consider how to make an attractive bathroom. There is variety of things which you may like to consider before designing your dream bathroom so that you get desired result.
Points to be kept in mind:
Style and Patterns
Ease of use
Colour
Elegance
Comfort
Space saving
Cost
Conceptual aspects
If you're designing the room from scratch, including blueprint and installation, make sure the view is pleasing and the flow within the room is comfortable. For instance, when you open the bathroom door, the first thing that you see should be soothing and aesthetically pleasant. So there can be a beautiful bath area or walk-in shower in front of the door rather than a toilet! If your bathroom fortunately has a nice view from the window, the bath area should be placed and designed such that you can enjoy the nature. Till this moment you should not think about colours and styles. The latter can be decided when you know where, what and how things will be!
Also, keep in mind the importance of storage during designing the layout. Some designer shelves and cabinets can be installed so as to create a mix of bare and concealed storage. This helps to showcase the ewc toilet and hide the unwanted things. Bold and bright colours can be used which helps in creating illusion of magnified light and space.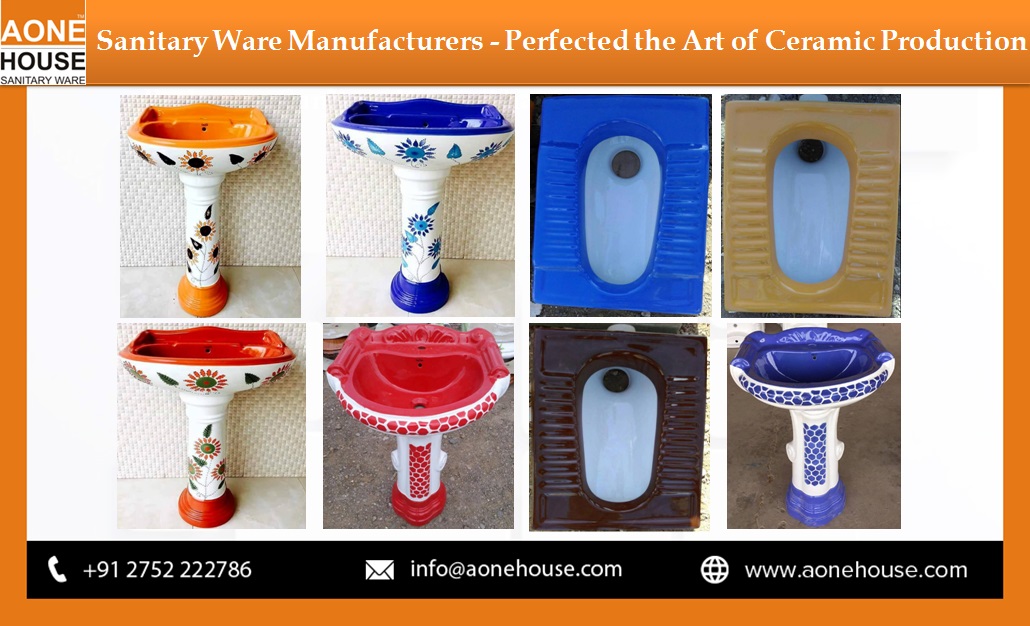 Design will also depend on types of bathrooms:
Powder Rooms
Half Baths
Three-Quarter Bath
Master Bathrooms
Guest Bathrooms
It is needless to say that the bathrooms these days are very small, especially in apartments. If these rooms are done with right interiors & colours, correct sanitaryware accessories and optimum utilization of space, it can look classy and large too. Below are few tips which will help you customize your perfect bathroom.
Fast guidelines:
Install a large sink and make a shelf space around it.
Use metallic finishes and mirrors to reflect light and make it look bigger.
Use every part of space.
Use bright colours.
Combine shower and bath tub space.
Extend a small neat counter over the toilet.
Designer ceiling with proper lightning (wallpaper can be used).
Raised fixtures from the ground which increases the feeling of floor space.
Use small baskets for towel or other storage. These baskets can be placed under the sink area or any unused space. It looks elegant as well as saves space.
Use glass partitions or curtains for bathing area instead of sliders and opaque ones.
Stripes with contrasting colour, for example, white and black, can be used on walls or floor tiles to create an illusion of space.
Bold wallpaper with texture can make the room look larger.
Create hidden storage places, like, drawers in the wall or behind the bath tub.
Use robe hooks instead of towel racks.
Use small plants to make the room look lively and fresh.
To sum up, essentials of every ideal bathroom are, but not restricted to:
Easy flow
Free floor space
Storage
Mirror
Exhaust
Hygiene
Pleasing interiors
Lighting
About Aone House
Aone House is a prominent manufacturer and exporter of quality sanitary ware accessories. The company has state-of-the-art production facility and skilled professionals who promotes & delivers the supreme grade
sanitarywares
at the competitive rates to the clients across the globe.