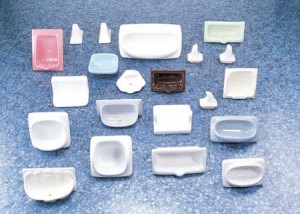 Increasing Renovation Curiosity among People
The influence of corporate world can be felt in all walks of life as a result the trend followed by corporate people is considered as up-to-date and appreciated by majority worldwide. Home renovation is not an exception from transformation. With internet media establishing easy links to access what is new and how that can be reached. Internet and television media have a great impact on people in exploring the modern amenities that are available today. Starting from washrooms to personal rooms and from kitchen to garden decorating thematically stays one of the latest attractions among people. Even people with moderate income think about spending a little more in modernizing their living space.  Washroom renovation is the recent demand in many people who wish to get complete hygienic atmosphere inside the bathroom and toilets and try to obtain a sparkling look with modern ceramic washroom accessories.
The Craze for International Standards in Washroom Accessory Designs
The craze for brand design will always be there in people. Country or race is not a constraint for appreciating modernity. As far as bathroom components made of earthenware is concerned, ceramic material is considered the safe, easy to maintain, hygienic and cost effective option. In addition, washroom elements made of stoneware are made in a range of designs and colors thus people have several options to choose from. Earthen wares are designed to match the space, purpose, decorative impact, etc. Even residential spaces built in small areas can be transformed into big and attractive in terms of installing the right size in the right place thus allowing more breathing spaces in between. These are some of the stylish features followed by top sanitary ware manufacturers. Hence, people are attracted towards modernizing their bathrooms by investing a little more in international standard designs that are manufactured in their own country.
Some Important Suggestions to Give a Rich Look to Toilets and Bathing Space
Investing on renovation project, especially washrooms have to be planned carefully. The investor need to calculate the space available to design a washroom and choose the designs accordingly. There are certain important suggestions which can be considered to make a meaningful expenditure on ceramic components for bathrooms and toilets they are,
The buyer should be very careful in choosing the manufacturer of ceramic wares because a reputed designer will be able to offer compact designs at moderate cost.
Before selecting the sanitary ware design, the buyer should make sure of the space and the number of sanitary components he can fix inside.
Since, the sanitary earthenware elements are available in a range of color and design; the investor can select the design in accordance to his funds, paint color of the washroom walls, and the flooring. This will add more elegance to the whole space.
Online search for ceramic ware companies is an excellent option to get in touch with the manufacturer as well as to place order at a moderate pricing.
Conclusion
Be it small space or big space, installation of colorful and modern ceramic sanitary components will surely change the appearance of the whole space. Hence, investing on such accessories can be made into a meaningful purchase.