Every modern thing is invented keeping in view the present needs and future demands. The water is essential for existence of living beings. And, it is a high time to save it because according to studies the world will face water crisis in near future.
Water should be conserved in every activity, and there is no other better place than HOME to begin any change.
Redesign your Bathroom to Save Space & Water
The bathroom is the place where maximum water is used at home. Switching to a water-saving toilet is the most effective change, you can make at your home to conserve water.
Replace your previous and leaky water closet with new European Water Closets.
The European water closets (EWC) are water efficient toilet suites are designed with a coupled cistern and integral trap to achieve effective flush using reduced volume of water per flush.
This kind of toilets comes with seat and cover. When flushing cover needs to be closed so that water does not spills on floor.
They are attached with a flush tank for flushing after usage. The tank is made of plastic or ceramic.
 If the toilet is installed on floor, it is called as floor mounted toilet and it can save more space than squat toilets. The toilet can be hung on the wall, which can also optimize space of your bathroom.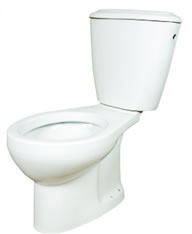 European Water Closet: Easy tips to Save Water
The flushing often waste water on regular basis, but following these simple tips can reduce its wastage:
Installing dual flush system on the flush tank can reduce the water consumption substantially. The distinguishing feature of a dual flush is that it comes with two buttons.
The first button is for liquid waste which outpours 0.8 gallons of water per flush and the second button is for solid waste which uses only 1.6 gallons of water. If we compare it to normal flush system which uses 3.5 gallons per flush, we can conclude that it saves more quantity of water.
Using Retrofit kit, it can allow one to adjust the water flow of western water closets. These kits are quite easy to install and will promote efficient flushing.
It is a high time to make our mind accustomed to water conversation techniques and strategies. The European water closets can be used by following tips to save water. Furthermore, they are made from ceramics, which is environmental friendly.
If you are nature lover, and planning to redesign your bathroom to optimize usage of space and water, you may turn to one of the best sanitaryware supplier i.e. Aone House.
Who are we?
Aone House is one of the leading manufacturer and supplier of designer European Water Closet in India since 2004. The company offers a wide range of high quality ceramic sanitarywares which includes EWC toilet, Wash Basin, Squatting Pan, Art Basin, Pedestal, European Water Closet (EWC), Cabinet (vanity), Urinal, Bathroom Accessory and many more.
The company has highly proficient designers to produce varied styles and colors of sanitary wares to fulfill the clients' requirement in the utmost manner. We provide elegant, durable and space-efficient sanitary accessories and unmatched customer services at competitive rates to our valuable customers across the globe.