There has been a steady and rapid growth in the sanitary wares market in the last 5-6 years. This trend has prompted manufacturers to enhance their production facilities to a point where the combined output of these products has more than doubled. Some of the major ceramic sanitary products manufacturers include;  
Aone House
Aone House is a world leader in ceramics and sanitary ware products. It is a high quality sanitary wares exporter based in Gujarat India. The company offers a wide range of products including pedestal wash basins European water closets, table top wash basins and much more. These products have been recognized for their elegance and perfection in the market.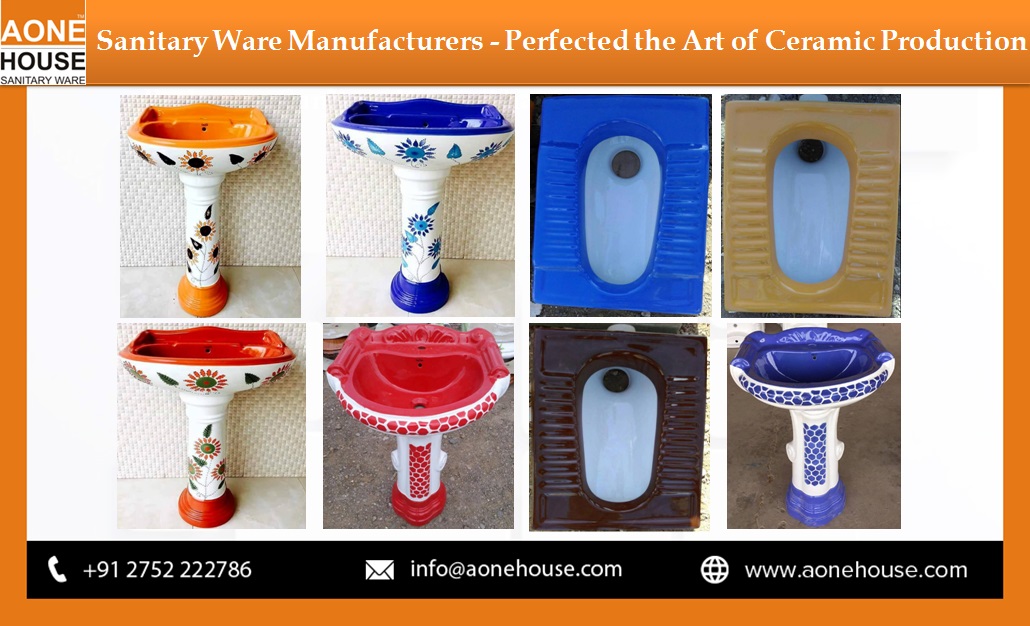 Hindustan Sanitary Ware Limited – Hindware
Hindustan Sanitary Ware Limited is a renowned company in the field of ceramics and sanitary wares. The company is the leader in manufacturing of ranges of ceramic sanitary wares including bathroom wellness products such as bathtubs, showers, high end water closets, tiles, bath fittings and many other related products. With over 50 years manufacturing experience, the company has maintained the lead in quality production and has received various awards in quality management, quality interior ceramic products and environmentally friendly manufacturing.
Cera Sanitary Ware Limited – Cera
Cera Sanitary Ware Limited is well established in India with a wide range of sanitary ware products such as faucets, tiles, wash basins, one piece and two piece toilets, kitchen sinks, squatting pans, waterless urinals, soap trays, plastic cisterns and wall hung basins. The company has also invested in technology and innovation to create a vast national and international market for these products.
Parryware Roca India – Parryware
Parryware Roca India prides itself in product design, technology and sustainable development. It has a total of seven manufacturing plants that are strategically located in India to maximize production and efficiency in the company operations. These are for manufacturing of vitreous china products, faucets and plastic bathroom accessories. Some of the flagship products include water closets, kitchen sinks, seat covers, electronic toilets, shower trays, shower cabins and many other products.
TOTO
The company prides itself in a wide range of products in various categories. In the toilets category, the have the one piece toilet, close coupled, wall hung, wall faced toilets, seat covers and many more. The company has also developed innovative designs of wash basins including wall hung, wall faced and even the floor mounted ceramic wash lets that create a wonderful look to your house.
RAK Ceramics India: RAK
RAK Ceramics India is a globally recognized manufacturer of ceramic products including floor tiles, bathroom sanitary products and various types of lavatories. The products include wall hung and floor mounted designs, regular, bowl and counter ceramic wash basins, Urinals and urinal partitions, seat and covers (PVC single flush, faucets, and wash basins with pedestal)
Duravit Sanitary ware Pvt Ltd – Duravit
Duravit Sanitary ware is another well-established company in sanitary ware manufacturing. The company is distinguished for superior design and functional ceramic ware products. The company has continuously engaged in innovation and drive towards new production technologies and product design. You can get excellent bathroom designs, wash basins and wash areas, shower trays, bath tubs and a complete range of bathroom well ness products.
Other innovative product manufacturers include Tessa Sanitary ware (Eros), Bell ceramic collections, Axor and Jaguar PVT Companies, all of which deliver excellent and long lasting ceramic sanitary ware products.