A bathroom is not just a room for bathing but it is  the personal space requiring careful  attention from aesthetic point of view besides regular sanitation. It is a space which requires thorough attention and creative inputs. Its decor forms one of the most important aspects of home decoration. The theme  chosen for the bathroom can range from classic and traditional to whimsical and fantastic.
A well furnished bathroom will have premium fittings and accessories, good storage options, designer bidets, designer sanitary wares, modern taps, cool and soothing wall decor and best possible lighting.
Today, people are very meticulous in the selection of bathroom accessories and sanity ware. Sanitary wares are the basic and most useful elements in a bathroom. Colour and design are the major considerations while selecting these, but one  also needs to think about the quality, ease of installation, cleaning ease and  wear and chipping resistance etc.of the product chosen.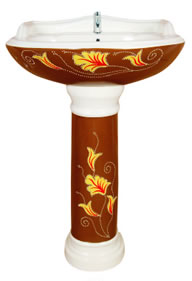 The designs of the sanity ware are inspired from a number of themes like contemporary, traditional, fantasy, country etc. Stylish models of wash basins, water closets and bathroom accessories like paper holders, robe hooks, towel trail brackets etc. are available in a wide range of style, colours and design.
A bathroom must have sufficient foot area with space for the door to take a complete turn. If space is a concern, one can opt for the sleek wall hung sanitary ware designs instead of the heavy conventional models. Wall hung water closets are available in  pleasing and flamboyant modern designs along with conventional touch.
Bath tubs give a serene bathing pleasure. A wide range of tubs is available to choose from. The standard bathtub / shower combination fit in a specific place in the room. A  walk in bath tub is ideal for elderly or handicapped people.
Wash basins come in a variety of excellent designs and rich colours in ceramic, like basins with pedestal, hand crafted and rustic wash basins.  Easy to clean, glossy and well-finished bowl and bidet pair can match the wash basin to complete the decor. The basin, bidet etc. can be fitted with high-quality faucets and water nozzles.
The right type of faucet that blends with ones requisition and décor can be selected from an extensive range of the product in diverse range and style. Single handle faucets are preferred over double handle faucets as these are easy to operate, elegant to look and excellent in function.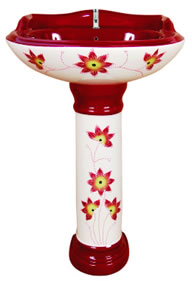 A bathroom with beautiful accessories not only gives one comfort and vigor, but also is a reflection of your persona. A dull looking bathroom can be made to look extraordinary with the right kind of accessories. Choosing the right bathroom accessories can be a difficult situation with such a huge range to choose from. Towel trail brackets, paper holders, robe hooks and many such products are available at affordable prices. The bathroom accessories in sparkling chrome finish are preferred over the old outdated look.
Thus beautiful bathrooms are custom made and they have all the accessories that the owner considers important for his / her own pampering.